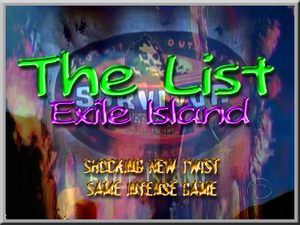 The List: Exile Island was the ninth edition of the List series. Going back to Panama, a brand new twist on the game was instituted and wreaked havoc on the game, resulting in two instances where players who came in last place overall did not go home.
The new twist in the game was Exile Island, which served moreso as a coliseum of sorts. During the Tribal Cycles, each tribe will vote their lowest ranked player into Exile. Among those players, the player whose tribe loses the challenge is then "Marked for Elimination". This means that if that player did not beat score higher in the challenge then the rest of the exilees that they were eliminated from the game. In the event that they did score higher than their competitor(s), they themselves would become immune and eliminate any other exiled player of their choice.
The tribes were divided based on age (older tribes: La Mina & Casaya, younger tribes: Bayoneta & Viveros) and based on their own ranking of assertiveness (male tribes: La Mina & Viveros) vs passiveness (Bayoneta & Casaya). It was interesting to note that the players ranked more assertive did not only last longer in the game than their passive competitors but were targeted more frequently with the Exile twist as well.
This game was interesting as two alliances formed early on in the game (Aras/Danielle and Bobby/Shane). With La Mina losing numbers left and right, Bobby & Shane aligned with fellow tribemates Misty & Ruth Marie to create a strong foursome. The tight La Mina alliance managed to not only infiltrate their looser-knit enemies and overtake Casaya at the merge after two rounds of strength and savvy gameplay. While Misty & Ruth Marie would soon fall after, the final four was set up as the two strongest alliances from both tribes squared off for the final two.
Ultimately, it was Shane Powers/superkyle who defeated Bobby Mason/TimmyTAR in a 4-3 vote and conquered the List.
Contestants
Edit
Contestant
Original Tribe
Drafted Tribe
Merged Tribe
Finish
Bottom Twos
Melinda Hyder

I LUV TIJUANA

Casaya

1st Eliminated

1
Tina Scheer

AfricaLover333

Casaya
2nd Eliminated
2
Courtney Marit

BrandonMusicRox

Bayoneta
3rd Eliminated
1
Sally Schumann

survivorluver999

Bayoneta
La Mina
4th Eliminated
1
Nick Stanbury

s17gabon

Viveros
La Mina
5th Eliminated
2
Dan Berry

Wasityou72

La Mina
La Mina
6th Eliminated
1
Bruce Kanegai

nelehrocks

La Mina
Casaya
Gitanos
7th Eliminated
1
Cirie Fields

UblazRob

Casaya
Casaya
Gitanos
8th Eliminated
1st Jury Member
2
Austin Carty

Its Revolutionary

Viveros
Casaya
Gitanos
9th Eliminated
2nd Jury Member
1
Terry Dietz

fallon5102004

La Mina
Casaya
Gitanos
10th Eliminated
3rd Jury Member
3
Misty Giles

Avilsta

Bayoneta
La Mina
Gitanos
11th Eliminated
4th Jury Member
1
Ruth Marie Milliman

sizzling bikini

Casaya
La Mina
Gitanos
12th Eliminated
5th Jury Member
2
Danielle DiLorenzo

Ashley Neleh

Bayoneta
Casaya
Gitanos
13th Eliminated
6th Jury Member
1
Aras Baskauskas

JVJrule

Viveros
Casaya
Gitanos
14th Eliminated
7th Jury Member
4
Bobby Mason

TimmyTAR

Viveros
La Mina
Gitanos
Runner-Up

2
Shane Powers

superkyle

La Mina
La Mina
Gitanos
Winner

0
Challenge Tracker
Edit
1
2
3
4
5
6
7
FINAL
Shane
SALLY
SHANE
CIRIE
MISTY
SHANE
BOBBY
SHANE
WINNER
Bobby
DANIELLE
TERRY
SHANE
DANIELLE
DANIELLE
DANIELLE
BOBBY
2ND
Aras
ARAS
CIRIE
BOBBY
SHANE
MISTY
SHANE
ARAS
Danielle
RUTH-MARIE
DANIELLE
TERRY
BOBBY
ARAS
ARAS
DANIELLE
Misty
SHANE
ARAS
NICK
RUTH-MARIE
AUSTIN
RUTH-MARIE
Ruth-Marie
CIRIE
BOBBY
ARAS
ARAS
RUTH-MARIE
MISTY
Terry
AUSTIN
MISTY
DANIELLE
AUSTIN
TERRY
Austin
MISTY
NICK
RUTH-MARIE
CIRIE
BOBBY
Cirie
NICK
AUSTIN
BRUCE
TERRY
Bruce
BOBBY
BRUCE
AUSTIN
BRUCE
Dan
BRUCE
RUTH-MARIE
MISTY
Nick
TERRY
SALLY
DAN
Sally
COURTNEY
DAN
Courtney
DAN
COURTNEY
Tina
TINA
Melinda
MELINDA
Voting History
Edit
1
2
3
4
5
6
7
FINAL
Shane
IMMUNE
MISTY
MISTY
TERRY
BOBBY
SAVED
BOBBY
WINNER
Bobby
IMMUNE
RUTH-MARIE
RUTH-MARIE
AUSTIN
SAVED
SHANE
SAVED
2ND
Aras
IMMUNE
IMMUNE
IMMUNE
SAVED
IMMUNE
SAVED
ELIMINATED
SHANE
Danielle
IMMUNE
IMMUNE
IMMUNE
ARAS
IMMUNE
ARAS
ELIMINATED
SHANE
Misty
IMMUNE
SAVED
SAVED
RUTH-MARIE
IMMUNE
ELIMINATED
BOBBY
Ruth-Marie
CIRIE
SAVED
SAVED
SAVED
IMMUNE
ELIMINATED
SHANE
Terry
IMMUNE
IMMUNE
IMMUNE
SAVED
ELIMINATED
SHANE
Austin
IMMUNE
IMMUNE
IMMUNE
SAVED
ELIMINATED
BOBBY
Cirie
SAVED
IMMUNE
IMMUNE
ELIMINATED
BOBBY
Bruce
IMMUNE
IMMUNE
IMMUNE
ELIMINATED
Dan
IMMUNE
NICK
ELIMINATED
Nick
IMMUNE
SAVED
ELIMINATED
Sally
IMMUNE
ELIMINATED
Courtney
IMMUNE
EXPELLED
Tina
ELIMINATED
Melinda
ELIMINATED