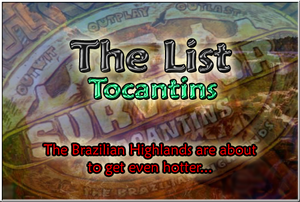 The List: Tocantins was the eighth in the series and the second to be hosted at the new FGC. With a new gaming generation waiting in the wings, this season was a nod to the second List game returning to a two tribe format.
This season is notable for the castaways being forced to vote out played out of their "faux"-Tribe based on first impressions. Those two players turned around and picked their own tribes, resulting in the two actual tribes.
Also similar to the second List game, this season also features one tribe completely dominating the other in all pre-merge challenges, resulting in one tribe merging with all it's members and the other only with two. This time, Sierra broke the record held in Pearl Islands for lasting until the final 4 despite only merging with one other tribemate.
Ultimately, it was Brendan Synnott/locolicious that defeated his game ally/snuggle buddy Stephen Fishbach/joeyrd1027 in a 5-2 vote.
Contestants
Edit
Contestant
Faux-Tribe
Drafted Tribe
Merged Tribe
Finish
Bottom Twos
Taj Johnson-George

Jukebox Blues

Jalapao
Jalapao

1st Eliminated

1
Joe Dowdle

ANDand19

Jalapao
Jalapao
2nd Eliminated
1
Sandy Burgin

extra tasty

Jalapao
Jalapao
3rd Eliminated
1
Candace Smith

americanidolfan4life

Timbira
Jalapao
4th Eliminated
2
Sydney Wheeler

survivorluver999

Jalapao
Jalapao
5th Eliminated
2
Spencer Duhm

s17gabon

Jalapao
Jalapao
6th Eliminated
2
Tyson Apostol

carlosw18

Timbira
Timbira
Forza
7th Eliminated
1
Debbie Beebe

itsbryanyay

Timbira
Timbira
Forza
8th Eliminated
1st Jury Member
2
Coach Wade

Silvah Yoshum

Timbira
Jalapao
Forza
9th Eliminated
2nd Jury Member
1
Erinn Lobdell

I LUV TIJUANA

Timbira
Timbira
Forza
10th Eliminated
3rd Jury Member
1
J.T. Thomas

scratchish

Jalapao
Timbira
Forza
11th Eliminated
4th Jury Member
2
Carolina Eastwood

wellmabk

Jalapao
Timbira
Forza
12th Eliminated
5th Jury Member
1
Sierra Reed

Tinian4

Timbira
Jalapao
Forza
13th Eliminated
6th Jury Member
6
Jerry Sims

fireballinsky

Timbira
Timbira
Forza
14th Eliminated
7th Jury Member
3
Stephen Fishbach

joeyrd1027

Jalapao
Timbira
Forza
Runner-Up

2
Brendan Synnott

locolicious

Timbira
Timbira
Forza
Winner

0
Challenge Tracker
Edit
1
2
3
4
5
6
7
FINAL
Brendan
CAROLINA
COACH
STEPHEN
CAROLINA
JERRY
BRENDAN
BRENDAN
WINNER
Stephen
SYDNEY
STEPHEN
CAROLINA
STEPHEN
CAROLINA
STEPHEN
STEPHEN
2ND
Jerry
BRENDAN
BRENDAN
BRENDAN
BRENDAN
SIERRA
JERRY
JERRY
Sierra
JERRY
TYSON
COACH
COACH
BRENDAN
CAROLINA
SIERRA
Carolina
SANDY
CAROLINA
SIERRA
J.T.
STEPHEN
SIERRA
J.T.
COACH
J.T.
SPENCER
ERINN
ERINN
J.T.
Erinn
STEPHEN
SPENCER
J.T.
JERRY
J.T.
Coach
SPENCER
CANDACE
DEBBIE
SIERRA
COACH
Debbie
JOE
JERRY
JERRY
DEBBIE
Tyson
ERINN
ERINN
ERINN
TYSON
Spencer
J.T.
SYDNEY
SYDNEY
Sydney
TYSON
SIERRA
TYSON
Candace
SIERRA
SANDY
Sandy
DEBBIE
DEBBIE
Joe
CANDACE
Taj
TAJ
Voting History
Edit
1
2
3
4
5
6
7
FINAL
Brendan
IMMUNE
IMMUNE
IMMUNE
SIERRA
SAVED
JERRY
STEPHEN
WINNER
Stephen
IMMUNE
IMMUNE
IMMUNE
ERINN
SAVED
SIERRA
SAVED
2ND
Jerry
IMMUNE
IMMUNE
IMMUNE
SAVED
BRENDAN
SAVED
ELIMINATED
Sierra
SAVED
SAVED
SAVED
SAVED
STEPHEN
SAVED
ELIMINATED
Carolina
IMMUNE
IMMUNE
IMMUNE
J.T.
J.T.
ELIMINATED
J.T.
IMMUNE
IMMUNE
IMMUNE
SAVED
SAVED
ELIMINATED
Erinn
IMMUNE
IMMUNE
IMMUNE
SAVED
ELIMINATED
Coach
SPENCER
SIERRA
SIERRA
ERINN
ELIMINATED
Debbie
IMMUNE
IMMUNE
IMMUNE
ELIMINATED
Tyson
IMMUNE
IMMUNE
IMMUNE
ELIMINATED
Spencer
SAVED
SYDNEY
ELIMINATED
Sydney
CANDACE
SAVED
ELIMINATED
Candace
SAVED
ELIMINATED
Sandy
SIERRA
ELIMINATED
Joe
ELIMINATED
Taj
ELIMINATED