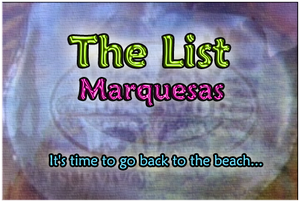 The List: Marquesas was the seventh installment of the original List series. As it was the first season to be held at the new FGC board, a Back to Basics theme was instituted as the game reverted back to the original 16 players all for themselves format.
This season was notorious mostly for it's ending as the winner turned out not be a ghostie but instead was winner of List: Thailand. Some players voting for the runner-up claimed she won the most challenges and should have won but the fact that a ghostname was used altered the minds of some jurors. Another twist this season was a Partner Challenge at the final 10 where the contestants competed in 2 teams of 5. Two teams won immunity and each saved a team, leaving the team not picked eliminated from the game and the player who scored the highest between the two would become the first member of the jury.
In the end, Vecepia Towery/mamakimz thong beat Neleh Dennis/Jacare15 in a fitting vote of 4-3 to wrap up the season. Based on her performance, Vecepia made an appearance on SX7: Samoanesia as a member of The Favorites and ended up tying for second place.
Contestants
Edit
Contestant
Original Tribe
Finish
Bottom Twos
Kathy Vavrick-O'brien

Jukebox Blues

Soliantu

1st Eliminated

1
Robert DeCanio

Diggory15

Soliantu
2nd Eliminated
1
Rob Mariano

wellmabk

Soliantu
3rd Eliminated
1
Zoe Zanadakis

nelehrocks

Soliantu
4th Eliminated
2
Paschal English

coolboy66

Soliantu
5th Eliminated
4
Sean Rector

Sambr23

Soliantu
6th Eliminated
1
Gina Crews

Tom2433

Soliantu
7th Eliminated
2
Hunter Ellis

KillahNine

Soliantu
8th Eliminated
1st Jury Member
1
Sarah Jones

I LUV TIJUANA

Soliantu
9th Eliminated
2nd Jury Member
2
Tammy Leitner

ANDand19

Soliantu
10th Eliminated
3rd Jury Member
2
Patricia Jackson

LisiProbst

Soliantu
11th Eliminated
4th Jury Member
2
Gabriel Cade

saraholic

Soliantu
12th Eliminated
5th Jury Member
2
Peter Harkey

lanternzb54

Soliantu
13th Eliminated
6th Jury Member
1
John Carroll

s17gabon

Soliantu
14th Eliminated
7th Jury Member
4
Neleh Dennis

Jacare15

Soliantu
Runner-Up

1
Vecepia Towery

mamakimz thong

Soliantu
Winner

1
Challenge Tracker
Edit
1
2
3
4
5
6
7
FINAL
Vecepia
HUNTER
NELEH
NELEH
GABRIEL
NELEH
NELEH
NELEH
WINNER
Neleh
NELEH
GINA
GABRIEL
& SARAH
VECEPIA
PETER
VECEPIA
2ND
John
JOHN
SEAN
TAMMY
VECEPIA
JOHN
GABRIEL
JOHN
Peter
VECEPIA
SARAH
VECEPIA
& JOHN
PETER
VECEPIA
PETER
Gabriel
PETER
GABRIEL
HUNTER
HUNTER
GABRIEL
JOHN
Patricia
GABRIEL
TAMMY
PATRICIA
& GINA
PATRICIA
PATRICIA
Tammy
TAMMY
PATRICIA
SEAN
TAMMY
TAMMY
Sarah
GINA
VECEPIA
GINA
& PETER
SARAH
Hunter
PATRICIA
PASCHAL
JOHN
NELEH
Gina
SARAH
PETER
PETER
& PATRICIA
Sean
ROB
HUNTER
SARAH
Paschal
ROBERT
JOHN
PASCHAL
Zoe
SEAN
ZOE
Rob
ZOE
ROB
Robert
PASCHAL
Kathy
KATHY
Elimination Tracker
Edit
1
2
3
4
5
6
7
FINAL
Vecepia
ZOE
SAVED
JOHN
BLUE
PETER
SAVED
SAVED
WINNER
Neleh
PATRICIA
PATRICIA
PATRICIA
SAVED
PATRICIA
VECEPIA
VECEPIA
2ND
John
SARAH
SAVED
SAVED
BLUE
GABRIEL
SAVED
ELIMINATED
VECEPIA
Peter
SEAN
SAVED
SAVED
SAVED
SAVED
JOHN
ELIMINATED
VECEPIA
Gabriel
GINA
HUNTER
SARAH
YELLOW
SAVED
ELIMINATED
NELEH
Patricia
SAVED
SAVED
SAVED
SAVED
SAVED
ELIMINATED
NELEH
Tammy
ROB
PASCHAL
PETER
SAVED
ELIMINATED
VECEPIA
Sarah
SAVED
VECEPIA
SAVED
YELLOW
ELIMINATED
VECEPIA
Hunter
SAVED
SAVED
GINA
ELIMINATED
NELEH
Gina
SAVED
JOHN
SAVED
ELIMINATED
Sean
SAVED
PETER
ELIMINATED
Paschal
SAVED
SAVED
ELIMINATED
Zoe
SAVED
ELIMINATED
Rob
SAVED
ELIMINATED
Robert
ELIMINATED
Kathy
ELIMINATED