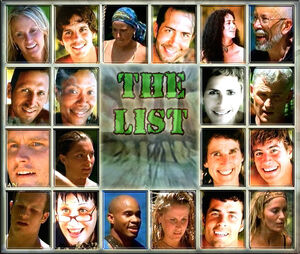 The List: Palau was the fifth season of the List series. For the first time the cast included 20 players, although a twist at the start ultimately leveled the playing field down to 18.
The tribes faced a challenge which resulted in two tribal captains (Stephenie for Ulong & Ian for Koror) to start a pick'em, alternating between men and women until each tribe had 9 members. The man and woman left over would not be part of the game and would be eliminated immediately.
This season is also noteable for being the first season to feature tribes but no merge, the exact opposite of the original List format. After the initial pick'em left the tribes even, another swap left Koror dangerously close to extinction with only two members. However, the two Koror fought the bigger Ulong tribe down and evened the odds where they were finally merged at the final four just in time for the final challenge.
In the end, James Miller/StrawberryMonroe's strategy of constantly saving a mediocre Ashlee Ashby/americanidolfan4life tipped the scale in his favor when he was announced the winner in a 5-2 jury vote.
Contestants
Edit
Contestant
Original Tribe
Swapped Tribe
Merged Tribe
Finish
Bottom Twos
Caryn Groedel

realityjr

Not Picked
1st Eliminated
0
Willard Smith

kamikaze156

Not Picked
2nd Eliminated
0
Wanda Shirk

dh33

Ulong
3rd Eliminated
1
Jolanda Jones

dannystultz

Koror
4th Eliminated
1
Stephenie LaGrossa

Jacare15

Ulong

5th Eliminated

1
Jonathan Libby

SurvivorSpecies

Ulong
6th Eliminated
1
Bobby Jon Drinkard

lups272

Koror
7th Eliminated
2
Janu Tornell

shoomrat

Koror
8th Eliminated
1
Ibrehem Rahmen

LostBlueAM

Ulong
Koror
9th Eliminated
1
Kim Mullen

Monique90210

Ulong
Koror
10th Eliminated
3
Tom Westman

Tom2433

Koror
Koror
11th Eliminated
1
Jeff Wilson

Electric Autumn

Ulong
Koror
12th Eliminated
1st Jury Member
2
Jennifer Lyon

Jafet

Ulong
Ulong
9th Eliminated
2nd Jury Member
2
Coby Archa

snowydayze

Ulong
Ulong
10th Eliminated
3rd Jury Member
2
Katie Gallagher

131survivorr

Ulong
Ulong
11th Eliminated
4th Jury Member
1
Angie Jakusz

superkyle

Koror
Ulong
12th Eliminated
5th Jury Member
2
Ian Rosenberger

play642day

Koror
Koror
Airai
13th Eliminated
6th Jury Member
3
Gregg Carey

noknowno

Koror
Koror
Airai
14th Eliminated
7th Jury Member
1
Ashlee Ashby

americanidolfan4life

Koror
Ulong
Airai
Runner-Up

6
James Miller

StrawberryMonroe

Koror
Ulong
Airai
Winner

1
Voting History
Edit
1
2
3
4
5
6
7
8
FINAL
James
IMMUNE
IMMUNE
SAVED
IMMUNE
IMMUNE
ASHLEE
ASHLEE
ASHLEE
WINNER
Ashlee
IMMUNE
IMMUNE
SAVED
IMMUNE
IMMUNE
SAVED
SAVED
SAVED
2ND
Gregg
IMMUNE
IMMUNE
JAMES
TOM
IAN
IMMUNE
IMMUNE
ELIMINATED
JAMES
Ian
IMMUNE
IMMUNE
TOM
JEFF
SAVED
IMMUNE
IMMUNE
ELIMINATED
ASHLEE

Angie

IMMUNE
IMMUNE
ASHLEE
IMMUNE
IMMUNE
SAVED
ELIMINATED
ASHLEE
Katie
SAVED
JEFF
IMMUNE
IMMUNE
IMMUNE
ANGIE
ELIMINATED
JAMES
Coby
JENNIFER
SAVED
IMMUNE
IMMUNE
IMMUNE
ELIMINATED
JAMES
Jennifer
SAVED
SAVED
IMMUNE
IMMUNE
IMMUNE
ELIMINATED
ASHLEE
Jeff
KIM
SAVED
IMMUNE
SAVED
ELIMINATED
JAMES
Tom
IMMUNE
IMMUNE
SAVED
SAVED
ELIMINATED
Kim
SAVED
SAVED
IMMUNE
ELIMINATED
Ibrehem
COBY
KATIE
IMMUNE
ELIMINATED
Janu
IMMUNE
IMMUNE
ELIMINATED
BobbyJon
IMMUNE
IMMUNE
ELIMINATED
Jonathan
SAVED
ELIMINATED
Stephanie
JENNIFER
ELIMINATED
Jolanda
ELIMINATED
Wanda
ELIMINATED
Caryn
ELIMINATED
Willard
ELIMINATED