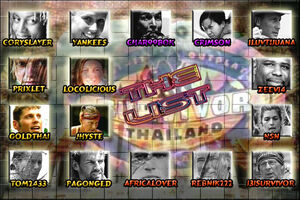 The List: Thailand was the third edition of the series. Still using the two tribe format, the third List introduced the first tribe swap to the game as well as a late merge at eight players.
This season's twist were Rookies vs Veterans, as 8 players who played before but left early in the game returned to take on 8 newbies. While the Veterans took an early lead, the tribe swap changed priorities and left the four weakest newbies in the dust. At the merge, the Rookies aligned against the remaining Veterans and knocked them off one by one until the last standing Veteran made a stand and forced the Rookies to eat each other.
In the end, Veteran Jan Gentry/Jhyste outlasted the entire Rookie alliance and managed defeat Erin Collins/prixlet in a final vote of 4-3 after many saw her strength and determination come out despite losing allies all around her while her rival was chastigated for her duplicity.
Contestants
Edit
Contestant
Original Tribe
Swapped Tribe
Merged Tribe
Finish
Bottom Twos
Clay Jordan

131survivorr

Veterans

1st Eliminated

?
Tanya Vance

nobodysnobody

Veterans
2nd Eliminated
?
Ted Rogers, Jr.

zeev14

Veterans
3rd Eliminated
?
John Carroll

I LUV TIJUANA

Veterans
4th Eliminated
?
Jake Billingsly

Rebnik222

Rookies
Chuay Gahn
5th Eliminated
?
Robb Zbacnik

AfricaLover333

Rookies
Chuay Gahn
6th Eliminated
?
Shin Ann Huang

crimson an clover

Rookies
Sook Jai
7th Eliminated
?
Jed Hildebrand

char99bok

Rookies
Sook Jai
8th Eliminated
1st Jury Member
?
Helen Glover

Tom2433

Veterans
Chuay Gahn
Chuay Jai
9th Eliminated
2nd Jury Member
?
Brian Heidik

pagonged101

Veterans
Chuay Gahn
Chuay Jai
10th Eliminated
3rd Jury Member
?
Ghandia Johnson

CorytheSpoilerSlayer

Veterans
Sook Jai
Chuay Jai
11th Eliminated
4th Jury Member
?
Penny Ramsey

yankees42789

Rookies
Chuay Gahn
Chuay Jai
12th Eliminated
5th Jury Member
?
Ken Stafford

GoldThai

Rookies
Chuay Gahn
Chuay Jai
13th Eliminated
6th Jury Member
?
Stephanie Dill

locolicous

Rookies
Sook Jai
Chuay Jai
14th Eliminated
7th Jury Member
?
Erin Collins

prixlet

Rookies
Sook Jai
Chuay Jai
Runner-Up

?
Jan Gentry

Jhyste

Veterans
Sook Jai
Chuay Jai
Winner

?
Section heading
Edit
Write the second section of your page here. Do not forget to add a category to help people find the page.