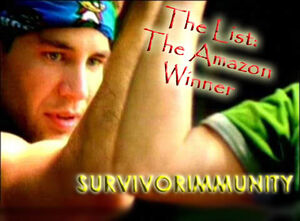 The List: The Amazon was the first game ever to be hosted in the X Series. Although it began as a chatroom minigame hosted on AIM, it became popular to the point where a regular game was requested. Unforunately the board, along with most of the earlier seasons, were wiped in the ezhack leaving onto trace evidence behind.
Despite being the first season, the cast was noteable for being incredibly cutthroat and catty, especially with the younger girls making fun of the older women. The first season stayed true to it's roots entirely, as it's the only season to feature no other twists and start the castaways off all in the same group.
When the dust settled Dave Johnson/SurvivorImmunity was deemed the stronger of the finalists, winning the game in a clear decision of 6-1 versus Ryan Aiken/chanlsky and was crowned the title of the first X Series winner of all time.
Contestants
Edit
Contestant
Original Tribe
Finish
Bottom Twos
Joanna Ward

TorchBurnsBright

Jacare

1st Eliminated

?
Butch Lockley

Tinian4

Jacare
2nd Eliminated
?
Deena Bennent

amitooshacham

Jacare
3rd Eliminated
?
Roger Sexton

I LUV TIJUANA

Jacare
4th Eliminated
?
Rob Cesternino

pagonged101

Jacare
5th Eliminated
?
Alex Bell

CorytheSpoilerSlayer

Jacare
6th Eliminated
?
Daniel Lue

LostBlueAM

Jacare
7th Eliminated
?
Christy Smith

ryrylicious

Jacare
8th Eliminated
1st Jury Member
?
Shawna Mitchell

Tom2433

Jacare
9th Eliminated
2nd Jury Member
?
Jeanne Hebert

mysteriousocean

Jacare
10th Eliminated
3rd Jury Member
?
Matthew von Ertfelda

Megara214

Jacare
11th Eliminated
4th Jury Member
?
Janet Koth

shoomrat

Jacare
12th Eliminated
5th Jury Member
?
Heidi Strobel

gutafing

Jacare
13th Eliminated
6th Jury Member
?
Jenna Morasca

BMH69

Jacare
14th Eliminated
7th Jury Member
?
Ryan Aiken

chanlsky

Jacare
Runner-Up

?
Dave Johnson

Survivor Immunity

Jacare
Winner

?
Section heading
Edit
Write the second section of your page here. Do not forget to add a category to help people find the page.