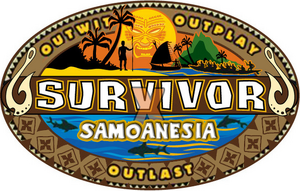 SX7: Samoanesia
was the seventh game in the series and the first of the revamped editions following All Stars. In an X first, a massive casting response allowed this season to bump it's numbers up as 24 castaways were eventually selected from the 40+ applications to play in this Micronesia-Samoa hybrid game.
This season's huge twist was how the tribes were initially divided: Fans vs Favorites vs Fuck-Ups. The Fans were eight players who had never played in SX before. The Favorites were eight players who were either Winners or Runner-Ups of previous X Series games. The Fuck-Ups were eight former players of the X Series who didn't finish extremely well but were back for redemption.
This season is most notable for the rise and fall of The Fans tribe following their dissolution on Day 13, a secret bottle revealing a double boot TC on Night 21, a Purple Rock of Death between the Malakal and Foa Foa alliances on Day 24, and a Tribal Council with 3 Hidden Immunity Idols coming into play on Day 36. This was also this first season where an original logo, intro video and episodes were made throughout the season.
Fan Liz Kim/retro cord managed to survive the Fan decimation by forming strong bonds with the Favorites of New Malakal. Liz used these alliances to her advantage when she survived the strong alliance of former Favorites at the merge and the heavily Fuck-Up jury awarded her the victory 5-1-1 against the Power Couple alliance of SX1: Runner-Up Kelly Sharbaugh/AisleyneForever and List Two Time Winner Natalie White/JohnnySleepzalot.
Liz has set a record as the first castaway to win the game without once receiving a vote.
Castaways
Edit
Contestant
Original Tribe
Post Exile Swap
Absorbed Tribe
Merged Tribe
Finish
Total Votes
Mikey Bortone
survivorluver999
Fuck-Ups
1st Eliminated
0

Ozzy Lusth
SandCreekColonie
Winner: Australiatu

Favorites

1st Voted Out

9
Jaison Richardson
xxxpickmegenius
Fans
2nd Voted Out

5
Erik Reichenbach
lanternzb54
Fans
Favorites
3rd Voted Out

6
Parvati Shallow
Colton Pierzina
Fuck-Ups
Fuck-Ups
4th Voted Out

5
Eliza Orlins
Monique90210
Runner-Up: Thailau Islands
Favorites
Favorites
5th Voted Out

9

Monica Padilla
I LUV TIJUANA
Fuck-Ups
Fuck-Ups
6th Voted Out
3
Natalie Bolton
RazorrzzEdge
Fans
Fans
2nd Eliminated
3
Laura Morett
ANDand19
Fans
Fans
Malakal
7th Voted Out

5
Brett Clouser
wellmabk
Winner: All Stars

Favorites
Favorites
Foa Foa
8th Voted Out

6
Mick Trimming
saraholic
Fans
Fans
Malakal
9th Voted Out

6
Yasmin Giles
Organic Veggies
Fans
Fans
Foa Foa
10th Voted Out
5
Amanda Kimmel
dramaticallycorrect
Runner-Up: All Stars
Favorites
Favorites
Malakal
11th Voted Out
9
Jonny Fairplay
s17gabon
Fuck-Ups
Fuck-Ups
Malakal
12th Voted Out
6
Russell Hantz
KillahNine
Fans
Fans
Foa Foa
Dabu
13th Voted Out
1st Jury Member
0
Dave Ball
dragonlady640
Fuck-Ups
Fuck-Ups
Foa Foa
Dabu
14th Voted Out
2nd Jury Member
12
Joel Anderson
fallon5102004
Fuck-Ups
Fuck-Ups
Foa Foa
Dabu
15th Voted Out
3rd Jury Member
11
Tracy Hughes-Wolf
patrickofthewhite
Fuck-Ups
Fuck-Ups
Foa Foa
Dabu
16th Voted Out
4th Jury Member
6
John Fincher
lups272
Winner: Thailau Islands
Favorites
Favorites
Foa Foa
Dabu
17th Voted Out
5th Jury Member
13
Erik Cardona
AbrcrmbiNfitchGi
Winner: BBX: Reloaded
Favorites
Favorites
Malakal
Dabu
18th Voted Out
6th Jury Member
8
Ashley Trainer
americanidolfan4life
Fuck-Up
Fuck-Ups
Foa Foa
Dabu
19th Voted Out
7th Jury Member
6
Kelly Sharbaugh
AisleyneForever
Runner-Up: Panamazon
Favorites
Favorites
Malakal

Dabu
Runner-Up

2
Natalie White
JohnnySleepzalot
Winner: List: Marquesas
Favorites

Favorites
Malakal
Dabu
Runner-Up

5
Liz Kim
retro cord

Fans
Fans
Malakal
Dabu
Sole Survivor

0
Episode Title
Challenges
Exiled
Eliminated
Vote
Finish
Reward
Immunity
Episode 1: "They Are Like Little Servants to Us!"
Favorites
Fans
Erik R
Mikey B
No Vote
1st Eliminated
Day 2
Fuck-Ups
Ozzy
9-0
1st Voted Out
Day 3
Episode 2: "It's Time For Your Rebuttal!"
Favorites
Fuck-Ups
Erik R.
Jaison
5-3
2nd Voted Out
Day 6
Episode 3: "A Question of Trust"
Fans
Russell
Erik R.
6-2-1
3rd Voted Out
Day 8
Laura
Parvati
5-3
4th Voted Out
Day 8
Episode 4: "I've Never Seen Someone Transform So Suddenly!"
Fans
Liz
Eliza
7-1
5th Voted Out
Day 11
Natalie B.
Monica
3-2-1-1
6th Voted Out
Day 11
Episode 5: "They Fear Me, Rightfully So!"
Favorites
Foa Foa
Yasmin
Natalie B.
No Vote
2nd Eliminated
Day 13
Fuck-Ups
Natalie W.
Laura
5-3
7th Voted Out
Day 14
Episode 6: "I'll Get You and Your Lapdog, Too!"
Malakal
Malakal
Kelly
Brett
6-3
8th Voted Out
Day 17
Episode 7: "Haters Will Have Their Torch Doused!"
Malakal
Amanda
None
Mick
6-1
9th Voted Out
Day 18
Joel
Yasmin
3-2-1-1
10th Voted Out
Day 18
Episode 8: "Crunch Time"
Erik C.
Foa Foa
Ashley
Amanda
6-1
11th Voted Out
Day 21
Fairplay
4-1
12th Voted Out
Day 21
Episode 9: "Ready For Anything"
Merge
Dave
None
Russell
5-5
13th Voted Out
1st Jury Member
Day 24
Episode 10: "I Just Had an Orgasm"
Ashley, Dave, Joel & Kelly
Joel
Ashley, Dave, Joel & Kelly
Dave
7-2
14th Voted Out
2nd Jury Member
Day 27
Episode 11: "He's Done It Before!"
Auction
Erik C.
Erik C.
Joel
5-2-1-1
15th Voted Out
3rd Jury Member
Day 30
Episode 12: "It's Like Christmas All Over Again!"
Erik C.
Erik C.
Erik C.
Tracy
6-1
16th Voted Out
4th Jury Member
Day 33
Episode 13: "I Wish There Was More Drama"
Ashley, John & Kelly
Ashley
Ashley, John & Kelly
John
3-3
17th Voted Out
5th Jury Member
Day 36
Season Finale: "All That's Left is to Eat That Damn Cake!"
None
Natalie W.
None
Erik C.
4–1
18th Voted Out
6th Jury Member
Day 37
Natalie W.
Ashley
3-1
19th Voted Out
7th Jury Member
Day 38
Reunion
Jury Vote
Natalie W.
5-1-1
Runner-Up
Kelly
Runner-Up
Liz
Sole Survivor
Voting History
Edit
Original Tribes
Switched Tribes
Merged Tribe
Episode #:
1
2
3.1
3.2
4.1
4.2
5
6
7.1
7.2
8.1
8.2
9
10
11
12
13
14.1
14.2
Eliminated:
Ozzy
Jaison
Erik R
Parvati
Eliza
Monica
Laura
Brett
Mick
Yasmin
Amanda
Fairplay
Russell
Dave
Joel
Tracy
John
Erik C.
Ashley
Liz
Jaison
Eliza
Amanda
Mick
Amanda
Fairplay
Joel
Dave
Joel
Tracy
Natalie W.
Erik C.
Ashley
Kelly
Ozzy
Erik R.
Eliza
Laura
Yasmin
Mick
Amanda
Fairplay
Joel
Dave
Joel
Tracy
John
Erik C.
Ashley
Natalie W.
Ozzy
Erik R.
Eliza
Laura
Mick
Amanda
Fairplay
Joel
Dave
Joel
Tracy
John
Erik C.
Ashley
Ashley
Dave
Dave
Brett
Ashley
Amanda
John
Dave
Ashley
Tracy
John
Erik C.
Kelly
Erik C.
Ozzy
Erik R.
Eliza
Laura
Mick
Amanda
Fairplay
Joel
Dave
Joel
Tracy
Natalie W.
Ashley
John
Ozzy
Erik R.
Eliza
Yasmin
Yasmin
Joel
Dave
Joel
Tracy
Natalie W.
Tracy
Parvati
Monica
Brett
John
John
John
John x2
John
Joel
Dave
Monica
Brett
John
John
Dave
Natalie W.
Dave
Parvati
Joel
Brett
Yasmin
John
John
Russell
Natalie B.
Erik C.
Brett
Yasmin
John
Fairplay
Parvati
Monica
Laura
Mick
Amanda
Natalie W.
Amanda
Ozzy
Erik R.
Eliza
Laura
Mick
Erik C.
Yasmin
Jaison
Brett
Dave
Mick
Jaison
Amanda
Erik C.
Brett
Ozzy
Eliza
Eliza
Yasmin
Laura
Jaison
Parvati
Amanda
Natalie B.
Jaison
Fairplay
Lost
Monica
Parvati
Fairplay
Eliza
Ozzy
Erik R.
Kelly
Parvati
Dave
Erik R.
Ozzy
Natalie B.
Erik C.
Jaison
Natalie B.
Ozzy
Ozzy
Mikey B
Lost
Jury Vote
Finalist:
Kelly
1/7 Votes
Liz
5/7 Votes
Natalie W.
1/7 Votes
Juror
Vote
Ashley
Natalie W.
Erik C.
Liz
John
Kelly
Tracy
Liz
Joel
Liz
Dave
Liz
Russell
Liz