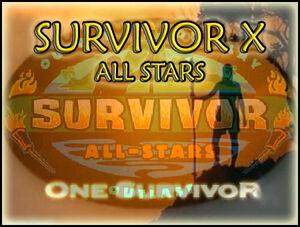 SX6: All Stars was the sixth game in the series which brought back four former contestants from each of the original five seasons to do battle for the All Star crown.
This season's twists were all based on variations of past twists. Season 1's Outcasts, Season 2's Faux-Men vs Women Tribes, Season 3's Block Vote, Season 4's Duo Tribes and Season 5's Exile Island each had their effect somewhere on the game and were brought back in full force.
Another aspect to this game was that the tribe's were constantly changing and each round was not complete unless at least one player swapped tribes. Having started out the game as Saboga, Chapera or Mogo Mogo likely meant you would not end up with that same buff color through the whole game. From players sent to Exile Island being switched to getting an inside look at your opposition's tribal dynamics, the constant swapping ended with the Merge at the final 9 where a 10 member jury had already started to form.
Despite having one of the lowest overall places of the All Stars, it was Robb Zbacnik/wellmabk who managed to mastermind a Season 5 alliance late in the game which brought him and long-term ally Jake Billingsly/dramaticallycorrect to the final two. The majority of the jury viewed Robb as the more risky of the two finalists as he was responsible for more of the pair's success in the game. Jake was often seen as the more passive and aloof of the alliance, thus the jury voted for Robb in a 7-4 vote.
Robb and Jake's performances warranted them an invitation to be part of The Favorites during SX7: Samoanesia. After a switch left both in a numbers minority, Robb and Jake quickly saw their torches being snuffed in the late pre-merge right before jury in 15th and 12th respectively.
Aras would later return as a part of the Returning Players tribe in SX14: Blood vs Water. Despite being an early favorite to win, Aras was voted out on Day One following a surprise First Impressions vote and is currently on Redemption Island.
The All Stars
Edit
Contestant
Original Tribes
Divided Tribes
Merged Tribe
Finish
Total Votes
Scout Cloud Lee

char99bok
Australiatu

N/A
1st Voted Out

3
Andrew Savage

megara214
Panamazon

N/A
2nd Voted Out

5
Rob Mariano

gutafing
Panamazon

Mogo Mogo
3rd Voted Out
6
Lisa Keiffer

SandCreekColonie
Winner: Australiatu

Mogo Mogo
4th Voted Out

4
Jeff Varner

Tinian4
Australiatu

Mogo Mogo
Saboga
5th Voted Out

3
Stephenie LaGrossa

myersfan31
Guatequesas

Moto Moto
Mogo Mogo
6th Voted Out

5
Jamie Newton

Electric Autumn
Winner: Guatequesas

Saboga
Chapera
7th Voted Out

4
Brandon Bellinger

rolandofthewhite
Guatequesas

Saboga
Saboga
8th Voted Out
4
Aras Baskauskas

Returned to Game

Mogo Mogo
Chapera
9th Voted Out
3
Misty Giles

Ashley Neleh
Thailau Islands

Mogo Mogo
Mogo Mogo
10th Voted Out
1st Jury Member
5
Ethan Zohn

CorytheSpoilerSlayer
Winner: Bornica

Chapera
Mogo Mogo
11th Voted Out
2nd Jury Member
2
Trish Dunn

locolicious
Panamazon

Saboga
Chapera
12th Voted Out
3rd Jury Member
7
Joel Klug

Rebnik222
Bornica

Saboga
Saboga
Chaboga Mogo
13th Voted Out
4th Jury Member
7
Kathy Vavrick-O'brien

Jacare15
Winner: Panamazon

Chapera
Mogo Mogo
Chaboga Mogo
14th Voted Out
5th Jury Member
3
Teresa Cooper

snowydayze
Bornica

Chapera
Chapera
Chaboga Mogo
15th Voted Out
6th Jury Member
3
Mia Galeotalanza

MCrre4331
Australiatu

Saboga
Saboga
Chaboga Mogo
16th Voted Out
7th Jury Member
4
Jessie Camacho

play642day
Bornica

Chapera
Saboga
Chaboga Mogo
17th Voted Out
8th Jury Member
9
Zoe Zanadakis

dannystultz
Guatequesas

Saboga
Chapera
Chaboga Mogo
18th Voted Out
9th Jury Member
3
Aras Baskauskas

UblazRob
Thailau Islands

Mogo Mogo
Chapera
Chaboga Mogo
19th Voted Out
10th Jury Member
8
Jake Billingsly

dramaticallycorrect
Thailau Islands

Chapera
Chapera
Chaboga Mogo
Runner-Up

2
Robb Zbacnik

wellmabk
Thailau Islands

Chapera
Mogo Mogo
Chaboga Mogo
Sole Survivor

4
Section heading
Edit
Write the second section of your page here. Do not forget to add a category to help people find the page.