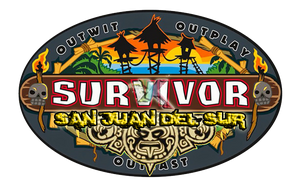 SX18: San Juan Del Sur - World's Apart
is the eighteenth installment of the Survivor X Series. This season was exclusive to the members of RTVGames.com and combines the 29th and 30th seasons of the actual show.
This season features the prominent twist- World's Apart. For this twist, castaways were divided in tribes based off their RTVG occupation and approach to ORGs. The White Collar Tribe was primarily made up of the admins, moderators & top achievers who were known for making the rules. The Blue Collar Tribe was made up of game hosts who were known for following the rules. The No Collar Tribe was then made up of players who have no responsibility at the message board thus were known for breaking the rules. Which Collar will prove most beneficial to the game?
Going into the merge, the White Collar tribe defined themselves as one of the most powerful tribes in the history of the game- being the first to get every member to the jury despite going to several Tribal Councils. A power core developed between Jaclyn, Jon & Tyler, and they were able to keep things together until a double idol play at the final 9 saw the first White Collar eliminated. Knowing he was not a member of the power trio, Joaquin took this opportunity to flip on the White Collars and used his extra vote won in the auction to allow his new alliance to take control. However, it was short lived as a series of idol plays by the White Collars allowed them to regain power. Despite this, Joaquin Souberbielle/Iron Muffin's strong social connections allowed him to sneak past his own elimination and the jury respected his power play overwhelmingly over Jon Misch/betinez & Tyler Fredrickson/RiddleMeThis who they felt rode on the strength of the powerful White Collar alliance.
Castaways
Edit
Contestant
Original Tribe
Swapped Tribe
Merged Tribe
Finish
Total Votes
Keith Nale

Hippie_boy

Blue Collar
1st Voted Out
Day 3
5
Natalie Anderson

Kitty <3

No Collar
2nd Voted Out
Day 6
4
Sierra Dawn Thomas

spoler345

Blue Collar
3rd Voted Out
Day 9
5
Joe Anglim

Filler

No Collar
4th Voted Out
Day 11
4
Baylor Wilson

Betchis01

No Collar
Hunahpu
5th Voted Out
Day 14
5
Vince Sly

Rod Edward

No Collar
Masaya
6th Voted Out
Day 16
7
Missy Payne

chitownmale89

Blue Collar
Hunahpu
Merica
7th Voted Out
Day 19
12
Lindsey Cascadden

buecey11

Blue Collar
Masaya
8th Voted Out
Day 21
7
Mike Holloway

Poseidon

Blue Collar
Hunahpu
9th Voted Out
Day 24
5
Kelley Wentworth

eagle2ch

White Collar
Hunahpu
10th Voted Out
Day 27
2
Carolyn Rivera

VanityEgo

White Collar
Hunahpu
11th Voted Out
Day 30
6
Jeremy Collins

1331nj

Blue Collar
Hunahpu
12th Voted Out
Day 33
3
Reed Kelly

roll the dice

No Collar
Masaya
13th Voted Out
Day 36
8
Jaclyn Schultz

Aly

White Collar
Masaya
Bowed Out
Day 37
4
Jenn Brown

VULpicks.

No Collar
Hunahpu
14th Voted Out
Day 38
4
Tyler Fredrickson

RiddleMeThis

White Collar
Masaya
2nd Runner-Up
0
Jon Misch

betinez

White Collar
Masaya
Runner-Up
7
Joaquin Souberbielle

Iron Muffin

White Collar
Masaya
Sole Survivor
1
Game History
Edit
To be added.
To be added.
Voting History
Edit
To be added.