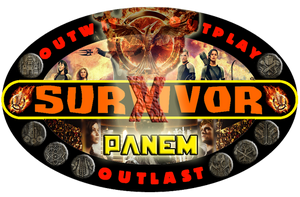 SX16: Panem
is the sixteenth installment of the Survivor X Series.  Once again partnering with sister site RTVGames.com, this season was made up of a cast of players mostly from the partner site while FGC members choose to be part of the Alumni Blog to commentate the season.  For the second time in SX History, the series departs from a true season of the show and instead took cues and references from the popular book and film series,
The Hunger Games
, which pits groups of teenagers into battle for their life.
This season features several prominent twists, but the most prominent is The Districts.  Much like the Duo Tribes of SX4, the 18 initial tributes were split into 9 duos to compete against each other.  Each round, a pre-determined number of districts would be granted immunity while the losing districts would go together to Tribal Council to vote out one vulnerable tribute. This left one tribute alone who would then be sent to Exile Island where they would wait until another lone tribute joined them to re-enter the game as a new district.
After using the Exile Twist to his advantage to exchange an untrustworthy partner for a reliable one, Carter Williams/eagle2ch found himself on the wrong side of the numbers after his number one ally was blindsided at the merge. After a few select challenge wins and a big strategic move made at the Auction, Carter was able to work himself back into the game- eventually finding himself in the final three with the last District standing. After Amber Brkich/CupidStunt was given the majority of the credit of the duo's moves, Bobby Jon Drinkard/maybe made the fateful decision to use his final Immunity win to instead vote Amber out- taking Carter Williams/eagle2ch to the end where the jury respected Carter's desire and ability to keep himself in the game without a solid alliance.
Not only is Carter the first RTV winner, but he is the third winner to play a perfect game- without receiving any elimination votes.
Castaways
Edit
Contestant
Original Tribe
Reformatted Tribe
Merged Tribe
Finish
Total Votes
Morgan McLeod
VanityEgo
District 3
1st Voted Out
Day 3
5
Osten Taylor
spoler345
District 7
2nd Voted Out
Day 6
6
Brandon Hantz
Mangospace
District 11
3rd Voted Out
Day 9
4
Erinn Lobdell
SoandSo
District 2
4th Voted Out
Day 12
4
Amanda Kimmel
BottleItUp
District 12
District 12
5th Voted Out
Day 15
6
Charlie Herschel
Josh_C
District 6
District 6
6th Voted Out
Day 18
4
Marcus Lehman
betinez
District 1
District 1
7th Voted Out
Day 18
4
Angie Layton
roll the dice
District 11
District 2
District 13
8th Voted Out
Day 21
8
Sandra Diaz-Twine
Vulpicks.
District 7
District 7
Quit
Day 24
0
Peih-Gee Law
FierceIntensions
District 4
District 4
9th Voted Out
Day 27
4
Spencer Bledsoe
1331nj
District 3
District 7
10th Voted Out
Day 30
7
Danielle DiLorenzo
Shattered
District 1
District 1
11th Voted Out
Day 33
3
Chase Rice
senshix
District 12
District 12
Medically Evacuated
Day 33
6
Alexis Maxwell
RunicOne25
District 6
District 6
12th Voted Out
Day 36
2
Fabio Birza
Petrodolar
District 4
District 4
13th Voted Out
Day 37
6
Amber Brkich
CupidStunt
District 5
District 5
14th Voted Out
Day 38
4
Bobby Jon Drinkard
maybe
District 5
District 5
Runner-Up
4
Carter Williams
eagle2ch
District 2
District 2
Sole Survivor
0
Game History
Edit
To be added.
To be added.
Voting History
Edit
To be added.