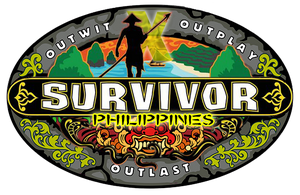 SX15: Philippines - Brawn vs Brains vs Beauty
is the fifteenth installment of the Survivor X Series.  Once again partnering with sister site RTVGames.com, this game combines the 25th and 28th seasons of the actual show.
This season features two promonent twists.  The first is the tagline for the series- Brawn vs Brains vs Beauty.  For this twist, castaways were divided in tribes based off of the three core attributes seen as most necessary for success in the game.  The second twist featured the three Returning Players of X Series Notoriety.  Christa Hastie/mysteriousocean (Runner-Up, SX1 & SX7) joined the Brawn Tribe, Brad Virata/stanleyolee (4th Place, SX8) was picked for the Brains Tribe, while Zoe Zanidakis/dannystultz (4th Place, SX6) became a part of the Beauty Tribe- however, one of the original eighteen castaways from both tribes was sacrificed in an opening vote in order to make room for all three players, hence the odd starting number of 21 players.  Which trait will prove most valuable?
Although being down going into the merge, the five remaining Brains managed to manipulate Lindsey Ogle/bryanpasa into switching sides which effectively dismantled the Brawn majority one by one. Returning player Brad Virata/stanleyolee made a tight pact with fellow Brain Sarah Dawson/Druid78 and the duo used Lindsey to dismantle their own alliance until only the trio remained at the end where the last remaining Brawn received no support from the Aparri-heavy jury. Instead, it came down to a two horse race between allies Brad and Dawson where the returnee was criticized harshly for his lack of jury management. Being seen as the good cop between the two and never having to truly ruffle feathers, it was Sarah Dawson/Druid78 who the jury ultimately crowned the 15th Sole Survivor.
Castaways
Edit
Contestant
Original Tribe
Absorbed Tribe
Merged Tribe
Finish
Total Votes
L.J. McKanas

maybe

Beauty
1st Voted Out
Day 1
3
Carter Williams

eagle2ch

Brawn
2nd Voted Out
Day 1
5
Michael Skupin

rdhaley

Brains
3rd Voted Out
Day 1
5
R.C. Saint-Amour

buecey11

Beauty
4th Voted Out
Day 3
4
Morgan McLeod

OrganicVeggies

Beauty
5th Voted Out
Day 6
6
Brice Johnston

KingofCruel

Beauty
6th Voted Out
Day 8
1
Lisa Whelchel

BottleItUp

Beauty
7th Voted Out
Day 11
3
Pete Yurkowski

Suppis

Beauty
Luzon
8th Voted Out
Day 14
9
Spencer Bledsoe

OutlastTheOutcast

Brains
Luzon
9th Voted Out
Day 16
6
Woo Hwang

Airlinesguy

Brawn
Aparri
Maharlika Diyosa
10th Voted Out
Day 18
6
Denise Stapley

wccats

Brawn
Aparri
11th Voted Out
1st Jury Member
Day 21
10
Christa Hastie

mysteriousocean
Panamazon

Brawn
Aparri
12th Voted Out
2nd Jury Member
Day 24
6
Zoe Zanidakis

dannystultz
All Stars

Beauty
Aparri
13th Voted Out
3rd Jury Member
Day 27
6
Tony Vlachos

Thomnom

Brawn
Aparri
14th Voted Out
4th Jury Member
Day 30
14
Tasha Fox

heyy

Brains
Luzon
15th Voted Out
5th Jury Member
Day 33
5
Kass McQuillen

Estquer

Brains
Luzon
16th Voted Out
6th Jury Member
Day 36
6
Zane Knight

adouble91

Brains
Luzon
17th Voted Out
7th Jury Member
Day 37
5
Jeff Kent

GabeBabe

Brawn
Aparri
18th Voted Out
8th Jury Member
Day 38
4
Lindsey Ogle

bryanpasa

Brawn
Aparri
2nd Runner-Up
1
Brad Virata

stanleyolee
Fijook Isles

Brains
Luzon
Runner-Up
2
Sarah Dawson

Druid78

Brains
Luzon
Sole Survivor
4
Game History
Edit
To be added.
To be added.
Voting History
Edit
Original Tribes
Absorbed Tribes
Merged Tribe
Episode #:
1
2
3
4
5
6
7
8
Eliminated:
Tie
L.J.
3/4 Votes
Carter
5/6 Votes
Michael
5/6 Votes
R.C.
4/6 Votes
Morgan
4/5 Votes
Brice
1/1 Votes
Lisa
2/3 Votes
Pete
6/7 Votes
Spencer
5/6 Votes
Woo
6/12 votes
Denise
10/11 votes
Voter
Vote
Brad
Pete
Spencer
?
Denise
Dawson
Michael
Pete
Spencer
?
Denise
Lindsey
Carter
?
Denise
Jeff
Carter
?
Denise
Zane
Michael
Pete
Spencer
ZaneSV
Denise
Kass
Michael
Pete
Spencer
?
Denise
Tasha
Michael
Pete
Spencer
?
Denise
Tony
Carter
Woo
TonySV
Zoe
?
Morgan
Brice
Lisa
?
Denise
Christa
?
Denise
Denise
Carter
?
DeniseSV
Woo
Carter
Tony
Spencer
Michael
Pete
Brad
Pete
L.J.
None
?
Morgan
Zoe
Lisa
Spencer
Lisa
?
?
?
Morgan
Zoe
Zoe
Brice
?
?
?
Morgan
Zoe
Morgan
?
?
MorganSV
Lisa
R.C.
?
?
R.C.SV
Michael
Zane
Carter
Tony
L.J.
Pete
None