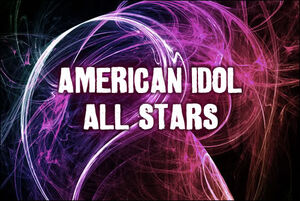 American Idol All Stars 2 was the second AI Redux game of the series. Originally hosted by Tom2433, he left after the second week and the game was taken over officially by Jordan. The entire final three from the first season returned to make up the judging panel as well as a special fourth judge who was added later in the season.
With fewer contestants, this season's format randomly divided the Top 16 into two random groups of two. For three weeks, the two groups would compete against each other and lowest vote getter from each group would be eliminated, leaving us with our Top 10. At that point, both groups would be combined into one final group, where each week the lowest vote getter would be eliminated until only one remained.
In the end, Kelly Clarkson/Jacare15 came back for redemption following her shocking elimination in the first season to defeat Kris Allen/wellmabk in a close vote for the title.
Chris Daughtry/chillfact0r7 - Host and Season 1 Winner
Simon Cowell/ANDand19 - Co-Host and Season 1 Runner-Up
Randy Jackson/saraholic - 2nd Runner-Up, Season 1
Kara Dioguardi/Tom2433 - Original Host Season 1
Ellen Degeneres/Jukebox Blues - Sixth Place, Season 1
Contestants
Edit
Contestant
Top 16 Group
Top 10 Finalists
Finish
Bottom Twos
Top Twos
Kellie Pickler

Colton Pierzina

One

1st Eliminated

1
0
Kristy Lee Cook

Avilsta

Two
2nd Eliminated
1
0
Jennifer Hudson

smileyriley14

One
3rd Eliminated
1
0
David Cook

coolboy66

Two
4th Eliminated
1
1
Kimberly Caldwell

kaylicious

Two
5th Eliminated
1
0
Allison Iraheta

nelehrocks

One
6th Eliminated
1
1
Diana DeGarmo

tiffers66

Two
Top 10
7th Eliminated
1st Finalist Out
3
0
Ramiele Malubay

Wuming Shi

One
Top 10
8th Eliminated
2nd Finalist Out
1
1
Jason Castro

louie77

One
Top 10
9th Eliminated
3rd Finalist Out
2
1
Mishavonna Henson

reggierules

One
Top 10
10th Eliminated
4th Finalist Out
2
0
Christina Christian

americanidolfan4life

One
Top 10
11th Eliminated
5th Finalist Out
2
1
Carrie Underwood

RijabX

Two
Top 10
12th Eliminated
6th Finalist Out
2
2
Chris Richardson

fallon5102004

Two
Top 10
13th Eliminated
7th Finalist Out
1
2
Adam Lambert

Diggory15

One
Top 10
14th Eliminated
8th Finalist Out
3
5
Kris Allen

wellmabk

Two
Top 10
Runner-Up

2
5
Kelly Clarkson

Jacare15

Two
Top 10
Winner

1
4
Elimination chart
Edit
Note: Bottom 2 indicates that the contestant was 'saved' last.
Legend

| | | |
| --- | --- | --- |
| Top 16 | Top 10 | Winner |
| | | | | |
| --- | --- | --- | --- | --- |
| Top 2 | Safe | Safe First | Safe Last | Eliminated |
Stage:
Semi-Finals
Finals
Week:
1
2
3
4
5
6
7
8
9
10
11
Finale
Place
Contestant
Result
1
Kelly Clarkson
Top 2
B3
Top 2
Top 2
B2
Top 2
Winner
2
Kris Allen
Top 2
Top 2
B2
Top 2
B3
B2
Top 2
Top 2
Runner-Up
3
Adam Lambert
Top 2
Top 2
Top 2
B3
B2
Top 2
Top 2
Elim
4
Chris Richardson
B3
Top 2
B3
Top 2
B3
Elim
5
Carrie Underwood
B2
Top 2
Top 2
Elim
6
Christina Christian
Top 2
B2
Elim
7
Mishavonna Henson
Elim
8
Jason Castro
Top 2
B2
Elim
9
Ramiele Malubay
Elim
10
Diana DeGarmo
Elim
11-12
Allison Iraheta
Top 2
Elim
Kimberly Caldwell
13-14
David Cook
Top 2
Elim
Jennifer Hudson
15-16
Kristy Lee Cook
Elim
Kellie Pickler